Many people don't know the reasons behind their noisy refrigerator because of which they have to suffer from a lot of problems at a later stage. Sometimes the situation becomes so complicated that they have to buy a new refrigerator. A better solution to avoid facing any kind of fridge issue is to maintain it smartly. On-time refrigerator repair is important to avoid facing costly repair services. Not only this it will also help you to save your important time. For fridge repairs in Sydney and maintenance service, you can hire the experts of a reputed company. They are the ones on whom you can rely for a better and long-lasting solution.
Now before making any effort to hire professionals, you need to understand the reasons behind the noisy fridge. Sometimes the issue might be a common and easy one that you can fix on your own. If the fridge is not getting cold then you just have to increase the cooling power button. And if it is freezing more than what is needed then decreasing the temperature is a solution. The normal operation of the fridge indeed causes some kind of sound such as humming noise, clicking, knocking or boiling sound, etc. There can be many different reasons behind such sounds which are normal. But if you hear some sound coming from your refrigerator which is not right then you must approach an expert for fridge repair in Ryde.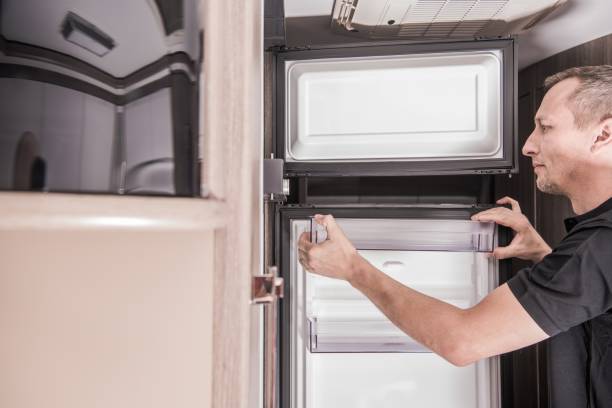 Reason Behind A Noisy Fridge
Fan Blade Damage: If you can hear an unusual sound coming from the closest to the vent, then there might be a chance that the fan blade is damaged. The simple way to get a confirmation is by hiring experts for inspection service. They will come and disassemble the fridge to check the fan. If they find that the fan is broken then they will suggest you replace it to avoid any further complications. If the fan is dirty then just cleaning it might solve the purpose.
Motor Problem: The modern refrigerator is equipped with many motors for its better functioning. If you are hearing sound coming from where the motors are placed then you need to find out which one is creating an issue, the condenser fan motor or the evaporator motor fan. Don't forget to check the fan blades and the bearing too. The problem can be in anyone which is causing unusual noise.
Condenser Coil Tubes: If you have moved your fridge during the home renovation, then there might be a chance that the condenser coils are bent and touching each other. This can be a major cause of noisy fridge. You can get help from professionals who are experts to offer fridge repair services in Abbotsford

.
The other kind of problem which you might face with your refrigerator that creates unusual sounds are damper issues, loose drain pan, faulty defrost timer, etc.
You can easily get in touch with the professionals of Fridge Repair Experts to get the best service. Our team is highly trained, experienced and have great skills to offer top-notch service. We have over 20 years of experience. We will closely inspect your appliance and make you aware of the problem, things that need to be done for best results. If any part is damaged and needs to be replaced we will inform you about that before doing anything. If you are good to go then only we will start fixing the issue. As we offer a 12 months warranty on parts so you don't have to take any kind of stress to get fridge repairs in Sydney by our team. Call us now to get the best offers.