Today the need of having a refrigerator has become highly important. You will see that not only the residential property owners are buying the cold storage system to store fruits, foods and vegetables but the commercial property owners also make the best effort to buy a good refrigerator. Even in hospitals, retail shops and the industrial sector you will find the use of cold storage boxes. But the problem occurs when people have to start looking for a team for fridge repairs in Parramatta.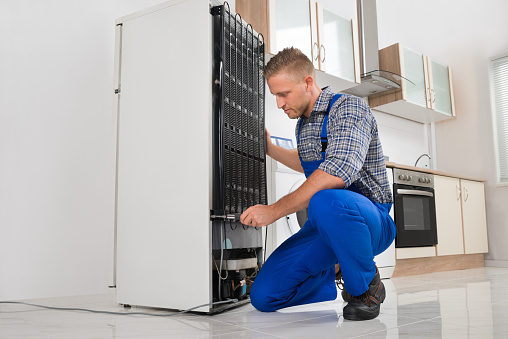 Reasons Due To Which Fridge Gets Warm
Before you approach the experts for fridge repair service in Parramatta you must try to know the reasons why your cold storage system might get warm. To get a better idea about this thing you can check out the points that are mentioned below.
Fridge Is Overload: If your refrigerator is full or overloaded with foods, fruits and vegetables then the air won't circulate in accurately and your cold storage box will start facing an issue. Thus to avoid facing such a problem it is better not to overload the fridge unnecessarily. Removing empty water bottles, boxes and the things that you don't need is a smart way to keep your fridge in the best possible condition.
Evaporator Coils Are Dirty: If your refrigerator is not cooling properly then you need to check the evaporator coils. If the coils are frosted over or not dirty then you might face the problem. While it can be a challenge for you to test the evaporator coils and clean them on your own, it is better to hire professionals that specialise to offer fridge repairs in Ryde.

You can trust them to offer you the best possible and right on time.

Damage Evaporator Fan: The other reason why your cold storage system is warm can be due to damage to the evaporator fan. If the fan is damaged then the cold air can't circulate throughout the fridge when the compressor is functioning. Thus you need to unplug the fridge and safely try to access the fan that is located at the backside of the back panel of the cold storage compartment. You have to closely check the fan blades to figure out if there is any damage or not.
Problem With Electronic Control Board: Another simple reason why your fridge might be getting warm is a problem with the electronic control board. The modern fridge comes with an electronic control board that is used for adjusting and monitoring the temperature. If the electronic control board starts malfunctioning then you will face issues with your refrigerator.

These are a few important reasons why you might face problems with your cold storage box. And the best thing you can do is hire an expert for fridge repairs in Castle Hill.
If you are looking for specialists who can offer you top-class refrigerator repair service then Fridge Repair Experts is the right destination for you. We have the best tools and resources. You just have to give us a call and we will be right there at your location to fix the problem that you are facing with your cold storage system. As we are trained, certified and insured to offer the service you don't have to worry about anything else.